Single lane
sorting machine

Semiautomatic
Clipping Machine

Weigher


Hand
Clipper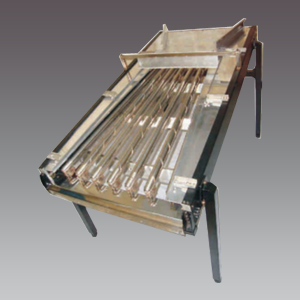 Single Lane Sorting Machine
Pre-grading and Grading of Citrus and other round fruits and vegetables.
Technical Description
Capacity
5 Tons/hour for round fruits and vegetables & 2-3 Tons / hour
for Potatoes and Onions
Maximum No. of Grades
5
No. of Rollers
7
Roller Clearance
25mm to 90mm adjustable
Power Consumption
1/2 HP
Motor Type
Single Phase, Geared
Frame Size
1750mm x 950mm x 900mm
Frame Material
Low Carbon Steel (Stainless Steel-Optional)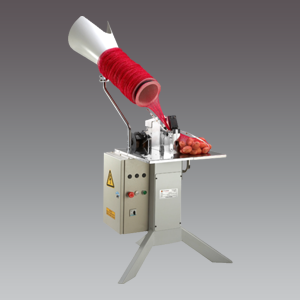 Semiautomatic Clipping Machine(Cheq120)
This machine clips our woven net fabric by manual placement on the net clipping device. Used for packing any fresh fruits or vegetables and shellfish. Widely used for packing onion, potato, tomato, orange, kinnow, gauva, clams, oyster and mussel etc.
Technical Description
Output
30 Pack Per Minute
Installed power
0.5KW / 50HZ / 400V / 3PH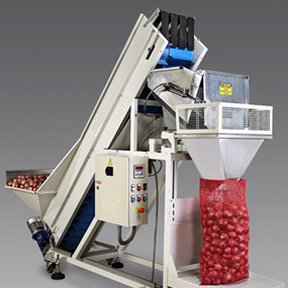 Weigher (Cheq 128)
This machine replaces large labour force in filling and weighing any produce into various size of bags ranging from 1kg to 50kg. This product is widely used for higher productivity in pack houses and cold storages for onions and potatos.
We can also attach either a sewing machine with conveyor for 10kg and above bags or our semi automatic clipping machine for 1kg to 5kg packs.
Technical Description
Output
1 Kg up to 17 pack / min
2.5 Kg up to 13 to 14 pack/min
5 Kg up to 10 to 12 pack/min
10 Kg up to 8 to 10 pack/min
25 Kg up to 6 to 7 pack/min

Installed Electrical power
0.75KW / 415V / 3PH / 50 Hz
Air Consumption
32 NLt/min
2HP- 2 stage Air compressor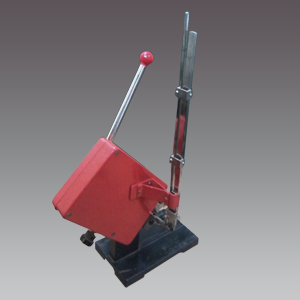 Hand Clipper
Hand operated machine for closing natural or artificial casings, nettings and bags, full or empty, with an aluminium clip.
Technical Description
Very easy to use, manual operation.
No compressed air supply or electricity needed.
Robust construction and specially treated to withstand the adverse conditions